Joyce Osborn and Sansa
Greetings to all from my balcony.  This is where we hang out these days when not teaching violin lessons virtually.
Turners  having fun while staying at home and safe.
Our front yards have been transformed into a baseball field.
Getting ready for a bike ride around the neighborhood. We all have our face coverings that we use whenever we go outside of our home.
Our pets are part of our family too.  Maggie enjoys having us home all the time now.
Lynn and Bob Bassler
We consider ourselves blessed, especially during this unusual Pandemic time, to have our little world of two studios and garden, as well as our home and office, all in one place to keep us quite well occupied. We are also blessed by friends in our neighborhood who have volunteered to buy groceries for us whenever they plan to go to the farmers market or other such food suppliers, so we are well cared for, and have yet to venture out into the world of commerce for our daily needs.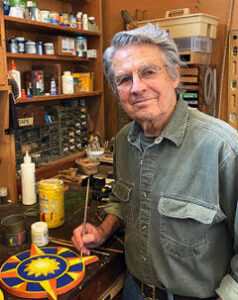 Bob Touching up the Kirk Gate
Logos in his studio/shop
Lynn and her climbing "Piñata"
roses on the outer wall of her studio.
Lynn engaged in one of her favorite
kitchen jobs, Chopping veggies!
Lynn and Bob Office Corners
Our joint office is actually in one room with
our personal stations at each end, and a
"common area in the center that actually
is used mostly by Lynn since she is the primary
manager of our various "business" requirements!
We both spend a lot of time there!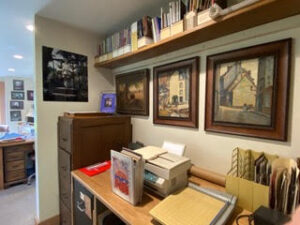 Our good old wooden file standing by in
it's corner and several paintings by Bob's
Great Uncle Arthur Covey
Shadow" busy resting in the Library on his favorite TV sofa
after an "exhausting" morning walk in our Northridge neighborhood.
The Lasker and Turner Family are Counting our Blessings as we continue to Stay at Home!
Nicole is the Science Teacher at the Kirk School.  She continues to develop science lessons and activities for the Kirk School children.  This week is focusing on Earth Day!
Somehow between conducting distance learning for her own 4 children, planning virtual lessons for the Kirk School kids, and cooking for a family of 9,  she somehow finds time to have fun.  Nicole and Lilly spent an evening watching movies and coloring.
When school is done for the day, we have other activities.  Building Star Wars Legos is a favorite.  Our family cat, Vera likes to be involved in absolutely everything.
Debby has been supporting the prevention of the spread of the coronavirus by making reusable cloth face coverings.  She has made over 120 to date and still is making more every day, with Vera helping of course.
Coordinating the Kirk Virtual Sunday School is a total family project.  We now have music as well as virtual lessons and fun activities every week.  We are very fortunate to have Nathan with us to provide the music, Ms. Veronica to provide the tech support,  and  Ms. Yvette to conduct the lessons virtually. When we count our blessings, having our Kirk family is certainly a wonderful gift and blessing to us all!