Early Developmental History of the Kirk O' The Valley 
In the Spring of 1954 the Presbytery of San Fernando assigned Reverend Lewis MesKimen and his family to establish a new church in Reseda.
According to reports, Rev. MesKimen began by canvassing the area, going door to door to seek people who were interested in forming the nucleus of a new congregation. As a result of these calls a committee of seventeen was formed for the church's first organizational meeting.
The organizational committee first met at St. James. The initial worship services were held at Costello Mortuary's chapel on Reseda Blvd. Then the Disabled Veterans Hall on Corbin served the weekly worship service purposes while Communion and Christmas services were held at Lorenzen's Mortuary on Sherman Way. The church was growing quickly and within a year was able to acquire it's present property on Vanowen and to begin planning and raising funds for it's first buildings.
During the post-Korean war years of the mid fifties the San Fernando Valley was experiencing a population boom of young families. Many of the early members of the church were transplants from the midwest and other regions of the U.S. The postwar economy was thriving and many in the area were employed in the aerospace industry that had major establishments in the valley.
Although the founding members of the congregation were primarily Caucasian, (if not of Scottish heritage) reflecting the regional population, there has always been an open mindedness concerning other ethnicitys joining the growing Kirk family.
Would you like to see we looked like over the past 66 years?  (Under Construction)
1954-1959
1960-1969
1970-1979
1980-1989
1990-1999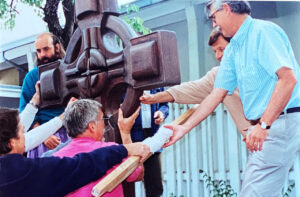 Installation of the Meditation Garden Celtic Cross that Bob Bassler created for the Kirk in 1993.
Pictured left to right are Bob Bassler, Russ McMillen (beard), Fred Carrington,
Jean René Bourquin behind Pastor Chet Gean.
2000-2009
2010-2019
2020 to Present